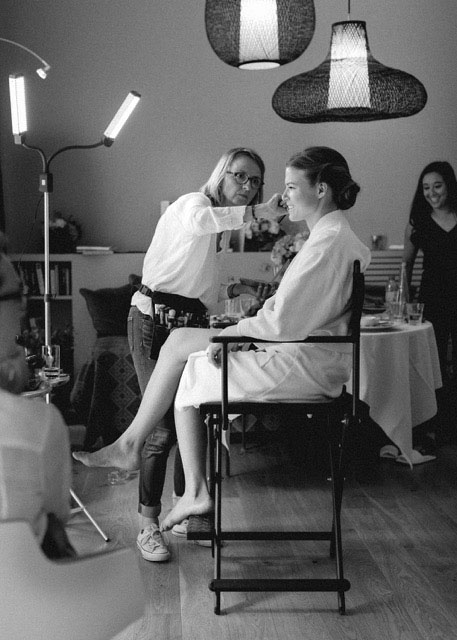 I am a Swedish makeup artist living in Provence.
Fashion and beauty have always had a big influence on me in my constant search to discover new ways of expression. I love to bring forward the identity and natural beauty in a person without exaggerating the makeup which I incline to make natural. Having said this, I also like challenges that allow me to work on stronger and bolder styles.
Through my years of collaboration with talented photographers and stylists from all over the world, I have become an efficient team player and enjoy being involved in projects at an early stage. I have extensive experience working on editorials, advertising campaigns, fashion shows, video and film productions and enjoy advising celebrities in their different engagements. While my focus is makeup, I am also a qualified hair stylist and happy to use my skills for that 'total look'.
When I moved to Provence, it became natural for me to extend my services and begin working on weddings.
Provence, being one of the most beautiful regions in the world is very popular and perfectly adapted for weddings and other glamourous events. These appointments are mostly made through bookings from local and international wedding planners. However, I am also available to work directly with the client on any special occasion. Engagement photo shoots and editorial workshops are also very popular and high on demand.
I only use high-quality makeup brands including a wide range of natural clean beauty products. On special demand, I use airbrush makeup, a well proven technique frequently used on the catwalk and red-carpet celebrities for a long lasting and flawless look.
My priority is to enhance each person's natural beauty and to make them feel special.
I am fluent in English, French and Swedish and happy to join you at your destination
Worldwide.
For bookings and further information,
please contact me.
DAN ROBERTS  • WENDELIN SPIESS •  MIKAEL JANSSON • ERIC FRIDEEN • ERIK BROMS • JORGEN AHLSTROM • KAROL R •  PETER GEHRKE • JOHN SCARISBRICK • ROBERT NETTARP • PER ZENSTOM • BERSA • KALLE STOLTZ • KARL BENGTSON • MATTIAS EDW • ALL • WILLIAM GARRETT • HENRIK HALVARSSON • OLA BERGENGREN • RANKIN WADDELL • MAGNUS MARDING • DENISE GRUNSTEIN • SHEILAIROCK • DANIEL HILL • EVA-MARIE RUNDQVIST • URSULA STEIGER • JOHN SWANNELL • IGOR EMMERICH • LIONEL DUYOU • CARL NILSSON • ROBERT WILSON •  ANDREAS VON GEGERFELT • FEATHER & STONE • JONAS INGESTEDT • SARA WAHLSTRÖM • BABETTE PAUTHIER • CHARLOTTE LAPALUS
FREDRIK BOND • JONAS AKERLUND • BJORN STEIN • ALEX THOMPSON • MIKE LIPSCOMBE • KJELL SUNDWALL • KJELL AKE ANDERSSON • BRIAN BAIDERMAN
DIESEL • LEE JEANS • BOOMERANG • MARCO POLO • BJORN BORG • ERICSSON • VOLVO • MONSTER.COM • WOLF BOY• ADIDAS • ASTOR • NA-KD • SUNBIRD
WALLPAPER • ELLE (SWEDISH & SPANISH) • ELLE DECORATION • DAZED & CONFUSED • THE FACE • TANK • YOU MAGAZINE • BRIDES • STYLE MAGAZINE • OUI MAGAZINE • DUEL MAGAZINE
ARMANI • JEAN PAUL GAULTIER (IN SWEDEN)
ST MARTIN '98 • ANN SOFIE BACK • NK SHOW (SWEDEN)
JAMIRAQUOI • NENEH CHERRY • TITIO • ROXETTE • LAUREN HUTTON • BRITT EKLAND • LENA OLIN • ISABELLA SCORUPCCO • HRH THE QUEEN OF SWEDEN